Wow! Not very eloquent, but the word that continues to come to mind to describe what happened this past weekend at our producer Neil DeGraide and his wife Kate's home and studio as we conducted two days of worship, fellowship, teachings, and songwriting for The Parable Project. Our God is truly amazing, and I cannot begin to tell you how humbled by what God poured out into us over these two days. Prayers were answered, as we sought to begin to form functional, inspirational, and transformational praise and worship songs based off of the parables. Man did God show up in a big way! Again, Wow!
I have been able to write with some amazing artists, worship leaders, and songwriters over the past decade, but I have never been surrounded by as many in one place at one time. In a setting such as this it would be easy for people to chest beat and embelish their own accomplishments as a way to prove their worthiness of being there or even showing off their talent. There was NONE of that in this retreat. Simply said, God assembled the right mix of humble servants with hearts set on taking the teachings of Jesus and translating them into modern songs for the church body to embrace. Their was no jockeying for position or place within our group, just hearts set on the Lord and his will. It was truly one of the most beautiful weekends of my life.
The weekend was opened up by inspiring and challenging messages from Neil DeGraide and Bob Kauflin, charging us to write biblical truths in song that will take the listener to an intimate place of connection with Christ. As a writer of many years, I can say that writing for this project very well may be the most challenging assignment I have ever been challenged with. The parables as they are written in the gospels are stories that Jesus told to help the listener understand God and His Kingdom. As a normal rule, story songs don't lend themselves to true corporate worship; so creating modern congregational praise and worship songs out of the parables is a stretch for me and any writer. But again, I was blown away with what God poured into the group. The challenge was met and exceeded.
After dinner on Friday night we broke up into groups and began the writing process. At first I was somewhat skeptical how putting some writers together who many had never met before would work out, but I can truly say it was God ordained. Each group was allowed to pick a parable or parables to work from and begin crafting. There were no true expectations for finished songs by the end of the weekend, just good working concepts to work from in the coming weeks. In all over 12 parables were chosen and songs were begun or finished over the course of the weekend.
Assembling nearly 20 writers from around the country was as exciting as it can be and having them collectively, and excitedly working on the same project for the Kingdom still blows my mind. We had writers from all walks and backgrounds, some highly accomplished in every right, and some just starting out. We were blessed to have several Dove award Nominees, and a Dove award winner working on the project but again, there was no pride or arrogance, just humility and service. It was truly a beautiful sight to see.
Again our Hosts were the ever so lovely and gracious Neil and Kate DeGraide and they opened up their home and studio to our ragtag group of Songwriters for the weekend. I don't believe you can find a better place to have a retreat like this hosted anywhere with the amount and array of musical instruments, studio equipment, and most importantly the loving hospitality that was shown by them. We were truly blessed to have our retreat there.
Among the writers in attendance were, Neil & Kate DeGraide, Chris Jackson, Jonathan Colbert, Rebecca Elliot, Tom Frye, Maggie Frye, Ryan Paonessa, Dave Moisan, Tyler Anderson, Eric Mcallister, Chris Banks, Jon Althoff, David Ward, Stephen McWhirter, Kyle Lee, and myself. We were even blessed to have my friend Paige Kissinger come and paint and pray over us as we were writing. The diversity of our group and the variety of music stylisticcaly was absolutely amazing and proved that we are all God's church and it showed up in the music that came out of the weekend.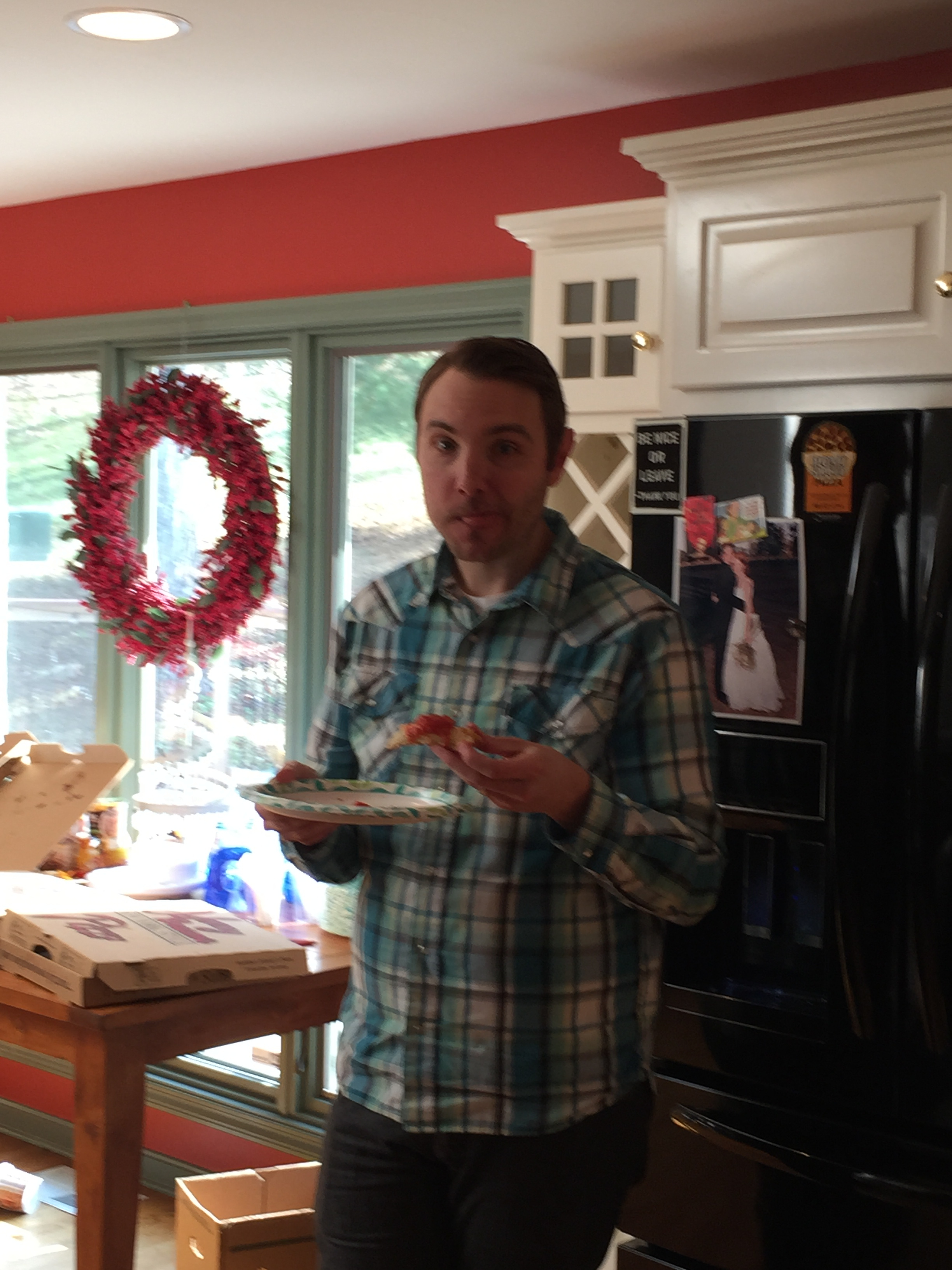 In all, the retreat was a huge success and we came out of the retreat with a good number of finished songs, concepts and working texts for more; but most importantly lasting friendships and hearts focused on sharing the gospel in Song. Please continue to be in prayer for our project, the writers, the producers, the musicians, the funding, and all the elements that it will take to complete the project. We can't wait to bring this project to the church and share Jesus's Parables in song. The writers truly captured the essence of what Jesus was trying to convey to us and our prayer is that this project will serve as a functional, inspirational, and transformational resource for the church for decades to come.
Soli Deo Gloria!